#500, featuring Spider-Man's wife, Mary Jane Watson-Parker, and many of his antagonists. Art by J. Scott Campbell & Tim Townsend." src="http://upload.wikimedia.org/wikipedia/en/thumb/e/e5/Spidey_run.jpg/200px-Spidey_run.jpg">Lately, I've noticed that Spiderman is the favorite Superhero of many people, and most of them are what you'd call geeks. Superman, Batman, David Blaine and others are popular among the ones who are not too keen on science/computers :roll:
It seems to be due the fact that geeks are only missing the easy part of becoming Spicerman. We are only waiting for the Spider bite! :D, while non geeks still have to learn physics, chemistry, Math, etc ;)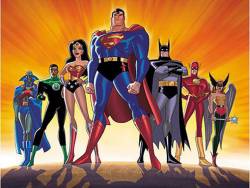 Comments
#7657" title="2007-02-08 11:29:09">soulse: Peter Parker is a geek thats why its our favorite superhero ;-)
#8024" title="2007-02-12 11:39:13">rogelio: I wanna be Spiderman because of Mary Jane .... uhmmm yeahhhhh
#13925" title="2007-04-23 12:05:53">Marcel V: Hmm, I want to be like Hellboy, but hey, I'm different than you geeks.